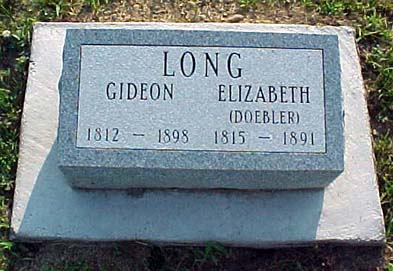 A Gift from the Family
When we discoverd where Gideon Long and Elizabeth Doebler where
buried, we also discoverd there was no stone. The descendants took
up a collection and bought a marker.
Gideon's Farm
When Gideon moved his family from Syder Co. PA to Schoolcraft MI, he purchased this land. There is an
old foundation 200 yards east of where this house is currently located and it is believed that it was Gideon's
and had been moved. It is also beleived that Gideon lost this farm to debts associated with his son's store.
He moved to Goshen and lived with his son, James.
Barzelelle Edson
We believe this stone was purchased many years after their deaths, by their son Eugene Edson.
It is located at the Prarie View Cemetery in Jefferson Co. IN. Their home was located between
Benton and New Paris IN.
Jim Long Network