Salem Massachusetts
"The Old Planters"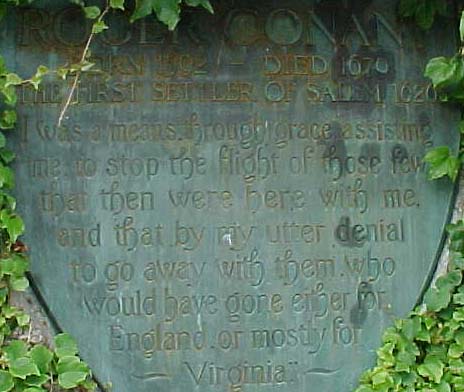 Roger Conant, the founder of Salem
Roger Conant led a group down from Cape Ann to a new place called
Naunkeag. It eventually became Salem.
Cats Cove
Deacon Samuel Edson fished in this cove.
Site of Deacon Samuel Edson's First Homested
He arrived in Salem in 1639 and was granted this land
just off Cat's Cove.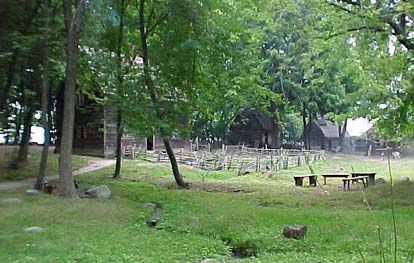 Pioneer Village in Salem
Samuel Edson and Sussanah Orcutt lived in a home like one of these on
the lot shown above left.
The Balch House
The Balch House is the Oldest structure still standing in the US.
Roger Conant settled just across the street. Mary Connat, one of
Roger's children had a child in a room in this house.
West Bridgewater Massachusettes
"Prominent Citizen"
The Deacons Tree
An old tree and a foundation very close to the spot where Deacon Samuel Edsons home was located in
West Bridgewater.
View from the Town River
Looking south to where the Deacon's home would
have been on the other side of the river. The
"Triple Arch Bridge" can be seen at the right.
Samuel & Susanah Edson's Grave
Just down the road to the East from the home site above.
James Keith's Home
Facing the river close to the "Tripple Arch Bridge" is Rev. James Kieth's Home that still stands! The origial
beams can be seen in the attic.
The Mill Stone
Down the street to the east from the Keith house is the original stone from the first mill in
Bridgewater, built and operated by Samuel Edson on the Town River. The plaque was put up
by the Edson Genealogical Association. This location is now a wonderful park.

Deacon Samuel's Pitch Pipe
Located at the West Bridgewater Historical Society is the actual pitch pipe he used to lead the
choir (large wood item behind the cups). It is said that if someone was singingout of tune, he
would blow it in their direction.
Samuel Edson III
Located on Main Street in Bridgewater is The Trinity Church Cemetery. This is on the piece of land known as
"The Glebe" that Samuel Edson III donated to the Church of England. He and his wife Mary Deane are buried
here and there is a monument in memory of his charity.
Vermont
"Rufus and Marquis"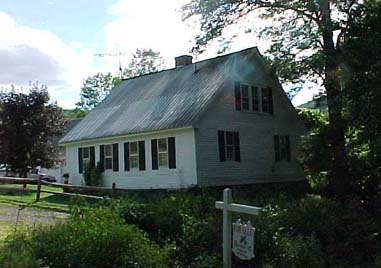 Home on Property Rufus Edson once owned.
They lived just north of the old settlement of "Middletown" which no
longer exists. It's located north of Grafton and south of Chester.
Marquis Edson and Rachael French
The road sign is right next to this house that may have been the home of Marquis and Rachel Edson.
Marquis is the son of Rufus.
Cemetery on the Popple Dungeon Road
Down the road from the house a short way to the west is the cemetery where Marquis and
Rachel are buried.